Simplify Your IT Service Management Needs With a Solution Built With Just That Purpose in Mind.
Syntervision provides a solution for Service Management to do everything you need in one place:  Discovery, Monitoring, Automation, Analytics, and Big Data management.    We watch the shop so you don't have to.  Oasis Service Management is portable and predictable to simplify your life.
Secure Cloud Computing
We use Oasis to ensure scalable privacy and simplicity, multi-layer security, and easy downloads, all at an effective cost with rapid deployment
Solving Flow Problems
Our solution doesn't just monitor your business, it helps solve problems by uncovering challenges, providing root cause, and providing a single view of the bigger picture
Custom Dashboards
Version 3 fits your unique environment with a flexible and fully configurable, simplified interface which provides role based dashboards and custom views into your data
Automation
The Oasis Automation tool takes the analytic thought process of a skilled engineer and puts it into code, reducing both CAPEX and OPEX for most companies.

Analytics
Through proactive analysis, Oasis is able to predict when incidents are likely to occur and put an end to them before they have any negative impacts on the business.
Integration
We understand that we aren't the only ITSM solution out there. That's why the Oasis solution was built with an open API to integrate seamlessly with other products.
Big Data
Our ontological method of analysis allows billions of data points to be summarized, assembled and presented instantly in a consumable presentation of tables and graphs
Multi-Industry Proven
Oasis is deployed in  successful customers in industries ranging from Telecommunications, Life Science & Healthcare, and Federal and State, just to name a few.
30 Day Implementation
Implementation is quick and results in a system configured to collect and present your data in a consumable manner so you don't wait for answers.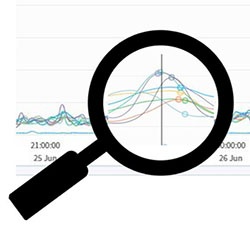 Identify Your Environment
The Oasis discovery engine does more than just find some aspects of your business environment.
The discovery engine acts like the best private investigator in the world and discovers your entire
business environment, every last piece of your physical environment and application
conversation. Knowing exactly what is in your environment allows us to give you the best help
possible and find root cause that much faster.